Eurostars project HEMATO-WASP awarded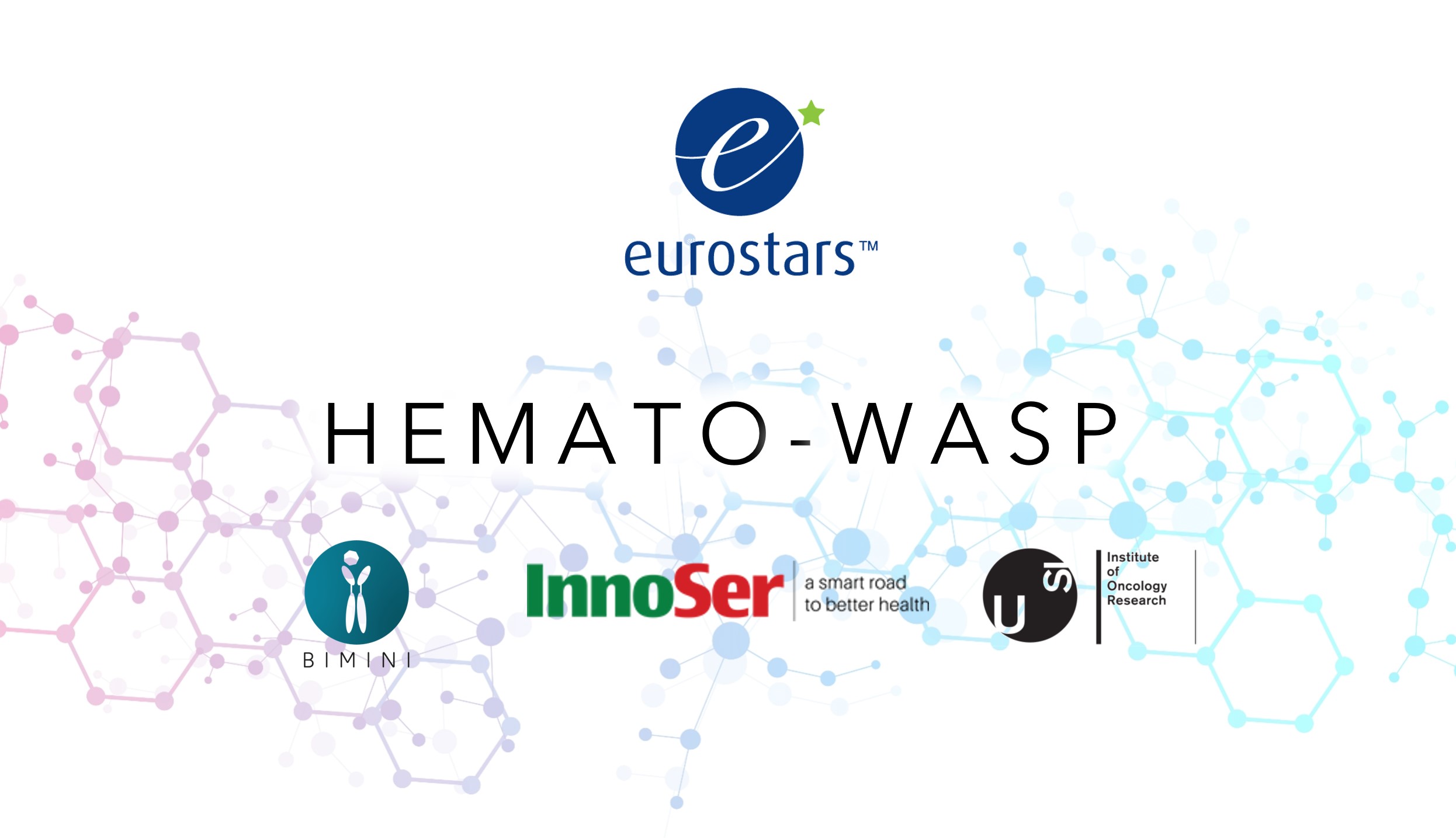 Leiden, 1 April 2023 – BIMINI Biotech, an innovative therapeutics startup, was recently awarded a Eureka Eurostars project with the aim of developing novel therapeutics for lymphomas. This project named HEMATO-WASP, brings together a unique consortium consisting of BIMINI Biotech (Leiden, the Netherlands), InnoSer Nederland (Leiden, the Netherlands) and the Institute of Oncology Research (IOR; Bellinzona, Switzerland) affiliated to the Università della Svizzera italiana (USI), with a total project budget of 1.7 million euros.
Several lymphoma subtypes (e.g. mantle cell lymphoma and diffuse large B-cell lymphoma) are highly aggressive and associated with poor prognosis. Despite the use of newer agents, the relapse rates are still very high, with the diseases considered incurable in still too many patients. Since patients are mostly elderly with comorbidities, intensive induction or cell therapies cannot be offered. Moreover, if treatment fails, the availability of therapies becomes scarce. There is an unmet need for newer targeted agents with novel mechanisms of action to improve the current treatment paradigm.
The HEMATO-WASP project aims to deliver first-in-class therapeutics for lymphoma patients, targeting a novel mechanism-of-action – the Wiskott Aldrich syndrome protein (WASp), a key regulator of the actin cytoskeleton in haematological cells. The proprietary approach activates WASp, resulting in genomic instability and apoptosis, specifically in lymphomas. HEMATO-WASP aims to optimize the lead (BIMINI Biotech – chemistry) and achieve proof-of-concept for preclinical efficacy in geno- and phenotypically characterized lymphoma models (InnoSer Nederland – pre-clinical in vivo modelling). The focus will be on responsive subtype identification and responder/non-responder biomarker analysis enabling patient selection for our approach (IOR – genetics). The end result will be a finalized pre-clinical data package towards CTA enabling and first-in-human studies.
For more information, please see: https://www.eurekanetwork.org/countries/netherlands/eurostars/
—————————————–
BIMINI Biotech
Dr. Digvijay Gahtory
CEO
Email: digvijay.gahtory@biminibiotech.nl
https://biminibiotech.nl